Safeguard your home against flooding
FloodFrame is the simple, effective solution that safeguards your home from flood damage.
Play video
About FloodFrame
What is FloodFrame?
FloodFrame is an effective, discrete and affordable Property Flood Resilience (PFR) solution.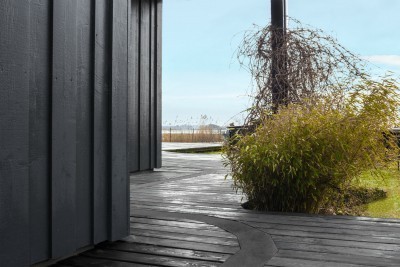 What does FloodFrame cost?
We customize FloodFrame to your unique structure, adapting it to the specific size, layout, and other relevant features.
How to buy FloodFrame
Follow our three simple steps by clicking below to get your FloodFrame installed today. We are here to protect your home!
By Hagenæs Jyllinge lies a beautiful house right by the water overlooking Roskilde Fjord. The house is on a steep slope and despite it being above the beach by a few metres, it was flooded by the storm flood "Bodil" in 2013. The owner of the house has chosen a...
read more
"The first three times the water rose, I was very worried about what would happen to our poor house. Not this time. Now I'm actually rather looking forward to it. I'm very excited and I'm hoping that I can test the FloodFrame that has been installed around our house."
"We were flooded and needed a solution to protect our house against a new flooding. More than anything else this precaution was taken to sleep better at night.
Susanne Toftgard Nielsen
Global CEO and Advisor
Susanne Toftgard Nielsen is the Global CEO and Advisor for FloodFrame. She oversees growth for the global brand as well as technological developments for FloodFrame.
Chris Fry
UK Country Representative
Chris Fry is the Managing Director of Accelar Limited, which serves as FloodFrame's partner in the UK. He has more than 25 years' experience in environmental consulting and sustainable technologies.